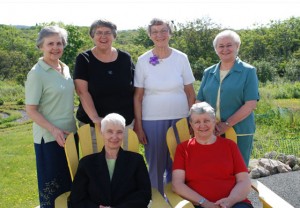 Lorraine d'Entremont, SC, holds a Master of Theological Studies degree from AST. Her experience includes high school teaching, hospital work as a medical technologist, campus ministry on local and national levels, and formation of new members in Sisters of Charity congregations. She obtained the Graduate Certificate in Spirituality and Spiritual Direction from Fordham University in 2005.
Sheilagh Martin, SC, has been an educator at high school and university levels. She holds a Doctorate in Physiology and is currently a part-time faculty member at Mount Saint Vincent University.
Maria Sutherland, SC, holds Master's degrees in English and Counseling Psychology. She is a psychologist in private practice in Halifax. In addition to this ministry, Maria gives workshops on such mental health topics as stress management, communication, self-knowledge and self-esteem. She has worked in parishes, educational settings, religious communities and the business community, facilitating conferences and meetings for a variety of organizations.
Evelyn Williams, SC, holds a Master of Theology degree and has a history of involvement in teaching, congregational formation ministry, university chaplaincy and prison ministry. Besides her responsibilities as Director of the Centre, Evelyn is involved in creating and delivering Centre programs and is available for group process facilitation and spiritual direction.